"FINDING YOUR TRUE LOVE"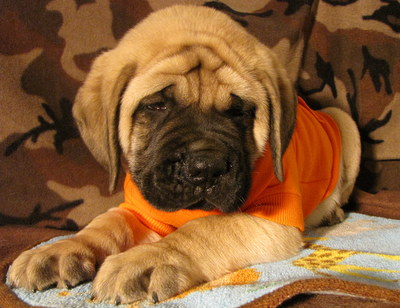 We do ship and that cost usually averages about $350-$450.
If the new puppy is flown C.O.D. you will be charged for the purchase of the crate needed for the flight.

The cost for us delivering puppies is 300.00
If you choose to purchase a puppy using paypal there will be a 3% fee charged to the price of the puppy.
We also will travel up to 200 miles round trip to meet you for delivery of your puppy. Any additional
miles you will be charged a delivery fee. If we deliver a puppy for a fee, you could possibly have to meet us within 2 hours distance from your location for the delivery of your puppy.

(If puppy is adopted at a discounted price we are unable to offer the travel time with out a fee)
All of our puppies are sold with Full or Limited AKC registration-unless they would have a genetic defect and we have been fortunate to have never had this occur!
We don't offer in any breeding rights within a 300 miles from DreamAcres Mastiffs in Sturgis, Kentucky.
1. When we sell a puppy with Limited Registration the AKC papers are sent when we have verification that the puppy has been spayed or neutered. (If we are not sent verification of the spaying or neutering within the puppies first birthday then AKC papers will be forfeited).
2. When we sell a puppy with Full Registration the AKC papers are given at the time of the puppies final payment and delivery.
3. When a puppy or adult is purchased with limited or full registration our kennel name "DreamAcres" will be part of the name listed on the AKC papers.
We provide you with a 12 month health guarantee. If you would like a copy of our health guarantee, please e-mail us and we will send it right away. If a puppy is shipped and we don't recieve a signed contract mailed back within 2 weeks this will void the guarantee on the puppy.
Once we know that we are expecting a litter- we take $300 deposit to hold the puppy. If there is a certain puppy you are inquiring about without a deposit we cannot guarantee you that we can hold that puppy.
First deposit gets first pick, second gets second pick and so on. When the puppies are born, if we are unable to provide you with the sex or color you asked for your deposit will be moved to the next available litter. Deposits are non-refundable. Pricing will vary from litter to litter depending on the sire and dam.
Puppies have all of the necessary shots and are wormed before you take them home!
Purchasing a English Mastiff is a "BIG" decision and we take it very seriously. We are always available for questions and advice and we take pride in raising beautiful, healthy, and happy puppies!
We work very hard to find good homes for our puppies and we take it very serious. We ask that you do the same! If you put a deposit down on a puppy we ask that you be committed to the puppy. For this reason all deposits are non-refundable. We reserve the right to not sell anyone a puppy that doesn't meet our standards for a good home.

You are more than welcome to set up a time to come for a visit.